Hi and welcome to Lakeshore Bulldogs! My name is Sabrina and my website is a place for me to share my love of the Bulldog breed with others as well as provide education and support to those new to the breed. Lakeshore Bulldogs is located in Virginia Beach, Virginia, but will always call St. Joseph Michigan home.
My passion with bulldogs began in 2002 which I purchased my first bulldog puppy. In March of 2003 I met Diane Black at the Capitol Bulldog Club Specialty Show in Bel Alton MD and purchased my 2nd bulldog, Pebbles. I almost immediately began to show Pebbles in AKC Conformation shows and in May of 2005 I was successful in getting her AKC pointed. We bred Pebbles to CH All-Star's Thirst N. Howl in the Fall of 2005, our first breeding. 5 beautiful healthy puppies arrived in September. We had only planned to keep a male from the litter to show, but could not resist when we saw Kirsten, and so the story goes...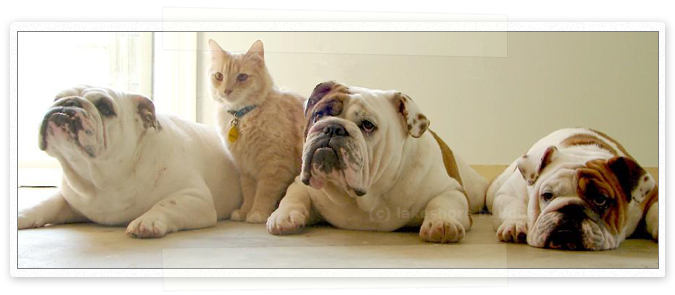 I have shown a couple different breeds over the years, with many ribbons and AKC Championship points accomplished. I really enjoy showing and have made so many wonderful friends in the sport, in all different breeds. It really is a lot of fun and I encourage new people that are interested to check it out. In the summer of 2007 I was successful in finishing my first Champion Bulldog, the "Cinderella Man", aka "Jimmy". All his wins were owner handled by myself, including back-to-back 5 point majors and many Group placements.
On November 27, 2010 at the Piedmont North Carolina Speciality shows (AM & PM) I finished my first Bred-By Champion, CH Lakeshores Can't Keep a Good Man Down, by taking Winners Dog and Best of Winners for back-to-back 5 Point SPECIALITY Majors, from the bred-by class with an entry of 34 dogs. All of Zeus wins were owner handled by myself from the Bred-By class. Thank you to Breeder Judges Mr and Mrs Dundas for recognizing this special boy with these major awards.
Lakeshore Bulldogs is a small Bulldog family that strives hard to show & produce Bulldogs that meet and/or exceed the breed standard in all aspects, including conformation, health & temperament. We will have puppies available on occasion and we take a lot of pride in our bulldogs & these breedings. We are always available and open to people who are new to the breed, just send me an email. I am more than happy to help, from common bulldog questions to information on showing your purebred dog in AKC Conformation shows. I just ask that you are patient with my response time, I get a lot of emails!
Thank you for visiting, I hope you enjoy your visit. Check back often, pages are updated regularly. Take Care! =)
A little about me...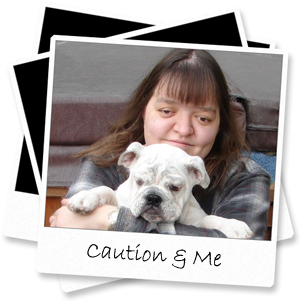 I work full time as an Account Manager for a large publishing company and I am a student working on finishing my Bachelors Degree in Database Management. Working full time, going to school and taking care of the kids doesn't leave me much time for recreation, but I do try to find time to go horseback riding and work on websites I have created. I am a member of the Bulldog Club of America and am a volunteer for the BCARN (Rescue) for our division. I believe whole heartily in rescue and responsible breeding. I am also a member of the Piedmont North Carolina Bulldog Club and the Bulldog Club of Greenville South Carolina. I have always loved all animals and do hope someday to follow my dreams of becoming a vet.