Lakeshores Silver Lining of Cloud 9
Born October 13th, 2006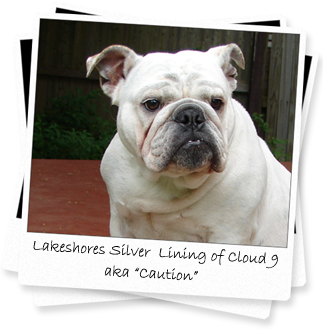 Caution was born on Friday the 13th of October 2006. On her birthday her mom Pebbles passed away after complications from the C-Section. Caution's life was surrounded by many sleepless nights and prayers. But Caution made it and has never looked back, she thinks she is invincible! She is definitely a character of a bulldog, I call her my "monster", but in reality she is the sweetest thing.
She is a beautiful girl with a lovely jaw & head, and great topline & tailset as well. Caution had a very limited show career, unfortunately she was not comfortable in the ring so she is no longer shown. She much prefers the comfort of the bed to the show ring.
On June 15th 2009 Caution became a mother to 12 puppies. Her son Zeus (CH Lakeshores Can't Keep a Good Man Down accomplished his AKC Conformation Championship in 2010 taking back to back Specialty 5 point majors.
Health Testing
CHIC # 70374
OFA Cardiac - Normal - # BU-CA495/49F/P-VPI
OFA Patella - Normal - # BU-PA352/49F/P-VPI
OFA Tracheal - Normal - # BU-TRH62/49F-VPI 2.3

Photos
Pedigree
Sire

CH Mr. Kinky of BullHouse

Sire

CH Flippins Scout

Sire

CH Millcoats Geronimo

Sire

CH Millcoats Titus

Dam

CH Millcoats Esther

Dam

Flippins My Bonnie

Sire

CH Millcoats WB's Obadiah

Dam

Rich Whistling Dixie

Dam

Warmvalley Joy of Bullhouse

Sire

CH Prestwick Gawain

Sire

CH Cherokee Lord Prestwick

Dam

CH Jo-Bobs Duchess of Prestwick

Dam

CH Warmvalleys Gillie's Sophia

Sire

CH Charjo Gullibull Gilbert

Dam

CH Bulleye's Plum Puddin'

Dam

Black's On Cloud 9

Sire

CH Helfyre Warmvalley Sixspence

Sire

CH Little Ponds Chief

Sire

CH Cherokee Legend Garth

Dam

CH Little Ponds Splash

Dam

CH Helfyre Warmvalley April

Sire

CH Warmvalley Buddy Boy

Dam

CH Helfyre's One Hot Number

Dam

Black's Koko Taylor

Sire

CH Black's Mr Vain

Sire

CH Prestwick Gawain

Dam

Black's Annabel Lee by Chubby

Dam

Black's Sweet Distraction

Sire

CH T-Towns Mr Jazz Man

Dam

JB Elegant Elvira