Lakeshores Kirst N. Howl o Blacks
Born September 16th, 2005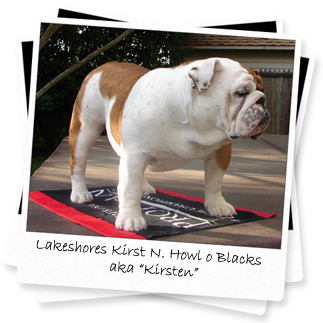 Kirsten is the sweetest thing you could ask for, laziest too maybe? She is a wonderful companion and loves her place on the couch. She is a beautiful standard girl and has been since day one it seems. She was stacking perfectly at 4 weeks old. Kirsten had a limited show career which included a Puppy Match Group 1 and with multiple placements including specialty placements. She has wonderful bone & substance, great topline & tailset.
In 2008 Kirsten was bred to Jimmy and 5 beautiful puppies were produced. Lakeshores Little Buddy, aka Gilligan and Lakeshores a Cinderella Story, aka Fiona were in this litter.
She has been spayed now and is retired at home on the couch, to which I am not hearing any complaints. Kirsten really is all you can ask for in a Bulldog.
Health Testing
OFA Cardiac - Normal - # BU-CA492/63F/P-VPI
OFA Patella - Normal - # BU-PA350/63F/P-VPI
CHIC # 69973

Photos
Pedigree
Sire

CH All-Star's Thirst N. Howl

Sire

CH Tiffany's Copper Wood

Sire

CH Briants How About That

Sire

CH Tiffany's Briant's Vincent Jr

Dam

CH Briants Sweet as Sugar

Dam

Tiffany's Tiger Wood

Sire

CH Tiffany's Born to Boogie

Dam

Bow-Siu-Ai Tina Louise

Dam

CH All-Star's Girl Scout Patch

Sire

CH Flippins Scout

Sire

CH Millcoats Geronimo

Dam

Flippins My Bonnie

Dam

CH Arthur's Queen Miss Maybeline

Sire

CH Arthurian's Duke of La-Nan-Dor's

Dam

La-Nan-Dor's Bellisa

Dam

Black's On Cloud 9

Sire

CH Helfyre Warmvalley Sixspence

Sire

CH Little Ponds Chief

Sire

CH Cherokee Legend Garth

Dam

CH Little Ponds Splash

Dam

CH Helfyre Warmvalley April

Sire

CH Warmvalley Buddy Boy

Dam

CH Helfyre's One Hot Number

Dam

Black's Koko Taylor

Sire

CH Black's Mr Vain

Sire

CH Prestwick Gawain

Dam

Black's Annabel Lee by Chubby

Dam

Black's Sweet Distraction

Sire

CH T-Towns Mr Jazz Man

Dam

JB Elegant Elvira