Lakeshores It's All About Me!
Born August 8, 2013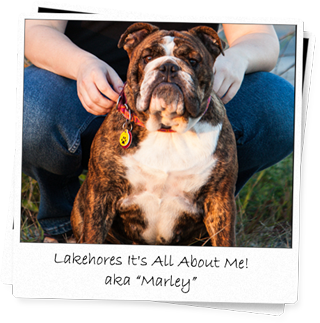 Marley is out of Diva (Ancrum's N Lakeshores Walkin On Sunshine) and Herman (GCH CH Majestic I'm Her Man!) She was a litter of 'one' and her Mommy just wasn't ready to take care of her so she was fostered by one of the best mommies out there, Ancrum's Full of Hott Heir aka Kate! Marley was raised with Kate's litter of 4 and never knew she wasn't one of them ;-)
At 9 weeks old Marley developed aspirated Pneumonia. She spent some time in the Emergency Vet and quite a few weeks on antibiotics, but she won the battle! She is a very healthy and happy girl who LOVES to play ball! She runs and fetches her ball and is very athletic and breathes beautifully! She just recently passed her OFA Patella, Cardiac, Trachea and Thyroid health tests. Look for her in the AKC Conformation show ring in 2015. She willl also be looking foward to motherhood in late 2015.
Health Testing
CHIC # 102296
OFA Cardiac - Normal - # BU-CA1290/16F/C-VPI
OFA Patella - Normal - # BU-PA1029/15F/P-VPI
OFA Tracheal- Normal - # BU-TRH330/15F-VPI
OFA Thyroid - Normal - # BU-TH290/15F-VPI
Hyperuricosuria (HUU) - Normal / Carrier - # BU-HU215/26F-PI-CAR
Link to OFA website for Marley's OFA Health Test Results
Photos
Pedigree
Sire

CH GCH Majestic I'm Her Man!

Sire

CH Benchmark Bulldogs Cowboy Cassanova

Sire

CH Helfyre Warmvalley Sixspence

Sire

CH Little Ponds Chief

Dam

CH Helfyre's Warmvalley April

Dam

CH Heavennsent Bully 4-U Sophia

Sire

CH Cherokee Legend Pretty Boy

Dam

Cherokee Heavensent Ariella

Dam

Majestic Mid Summer Nights Dream

Sire

CH Kyleken's Shadow O'Nugget

Sire

CH Kyleken Sandman O'Nugget

Dam

CH Tomel's New Venture

Dam

CH Bodhi's Rock N' Roll Rosie of Majestic

Sire

CH Adamant Warlock

Dam

CH Murdock's Ukelele Lady

Dam

Ancrum's N Lakeshores Walkin on Sunshine

Sire

Lakewinds Xfinity

Sire

Merriveen Red Pepper

Sire

Eng World CH Merriveen Make My Day

Dam

Hobtop Hope for Merriveen

Dam

GCH CH Lakewinds Barbie Doll

Sire

Lakewinds Boss Hogge

Dam

CH Lakewinds White Gold

Dam

CH Jambulls De Ancrum's Better Dayz

Sire

Jambulls Jeeves at Your Service

Sire

CH Mystyle Warrior Ocobo

Dam

CH Jambulls That's Our Bebe

Dam

Jambulls Total Knockout

Sire

CH Helfyre Warmvalley Sixspence

Dam

Sweet Addiction Bubblicious