Blacks On Cloud 9
October 26th, 2002 - October 13th, 2006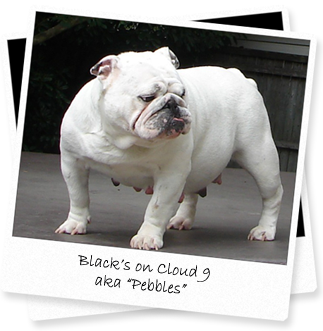 Pebbles was my first show dog, and I learned so much from her about showing and being a good sportsmen. I purchased her from Diane Black in 2002 and thus also began the wonderful mentorship from Diane. Pebbles was a beautiful solid white bulldog, with perfect angulation, topline, tailset, earset and an awesome disposition. Everything the breed should be. You couldn't find one better. She was AKC pointed and had won her Open Bitch class multiple times and had multiple reserve placements.
A video memorial to Pebbles...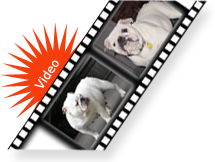 Direct Link - YouTube.com
Pebbles passed away after a reaction from her C-Section on Friday October 13th, 2006. She can never be replaced, but her legacy lives on in her children including Lakeshores Kirst N. Howl o Blacks, Kirsten, Lakeshores Captain of the All-Stars, Skipper and Lakeshores Silver Lining of Cloud 9, Caution who have made her proud and have carried on her tradition in both breed standard and temperament. We all love you Pebbles and will never forget ~ Mommy
Photos
Click Image to Enlarge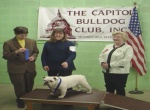 March 21st, 2004 ~ Bel Alton, MD
Capitol Bulldog Club Specialty Show
1st Place ~ 12-18 Mo.

Pedigree
Sire

CH Helfyre Warmvalley SixSpence

Sire

CH Little Ponds Chief

Sire

CH Cherokee Legend Garth

Sire

Ch Prestwick Gawain

Dam

Ch Cherokee Mardel Sage

Dam

CH Little Ponds Splash

Sire

Ch T-Town Gustav With Gusto

Dam

Little Pond's Blonde Ambition

Dam

CH Helfyre Warmvalleys April

Sire

CH Warmvalley Buddy Boy

Sire

Ch Dakota Arrogant Anthony

Dam

Ch Warmvalley Shades of Hope

Dam

CH Helfyre's One Hot Number

Sire

Ch Cherokee Dakota Robert

Dam

Ch Helfyre-Lebo's Grace Poupon

Dam

Black's Koko Taylor

Sire

CH Black's Mr Vain

Sire

CH Prestwick Gawain

Sire

Ch Cherokee Lord Prestwick

Dam

Ch Jo-Bob's Duchess of Prestwick

Dam

Black's Annable Lee by Chubby

Sire

Ch Shack-N-Lo Chubby Checker

Dam

JB Matilda

Dam

Black's Sweet Distraction

Sire

CH T-Town's Mr Jazz Man

Sire

Ch T-Town Farmer Roy

Dam

Ch Gretchen Godiva Luddington

Dam

JB Elegant Elvira

Sire

Edwards' Lord Beverly

Dam

J B Matild