CH Lakeshores Must Be Doin' Somethin' Right
Born September 4th, 2014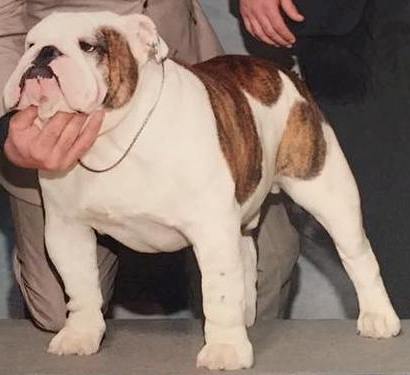 Hercules is out of my first Bred-By Grand Champion Zeus (GCH CH Lakeshores Can't Keep a Good Man Down) and Prada (Lakeshores Next Top Model). He came into this world on September 4th, 2014. He is a very happy silly boy who loves to give hugs! He is very sweet and loving, a big goober! He is a good sized boy at about 59 lbs, no fat, he is all Bulldog! He has an amazing amount of bone and substance, nice large head, good noseset and straight wide jaw. Perfect earset, nice topline and tailset and good angulation. He is a healthy boy and breathes well, although he is your typical laid back lazy bulldog. Hercules passed his OFA Trachea, Thyroid, Patella and Cardiac (Cardiologist) Health Certifications and received his CHIC #. He is also HUU Clear / Non-Carrier. He is the total Bulldog package of Health, Temperament and Conformation.
Hercules is now AKC CHAMPION Lakeshores Must Be Doin' Somethin' Right!! He finished his AKC Championship with in style winning 4 Majors, 3 under respected Breeder-Judges and one was a Speciality Major! Look for updated pics to be posted shortly! Hercules was only on the show circuit for 3 months and was awarded a Grand Champion 4 Point Select Major his first time in the ring as a Champion. I look forward to showing him in the 'Specials' ring and working on his AKC Grand Championship.
Hercules is available to stud to approved bitches. Email lakeshorebulldogs@gmail.com to inquire about Hercules as a English Bulldog Stud.
Health Testing
CHIC # 109632
OFA Cardiac - NORMAL - BU-CA1518/14M/C-VPI
OFA Patella - NORMAL - BU-PA1186/12M/P-VPI
OFA Tracheal - NORMAL - BU-TRH450/12M-VPI
OFA Thyroid - NORMAL - BU-TH362/12M-VPI
Hyperuricosuria (HUU) - NORMAL / Non-Carrier - BU-HU216/13M-PI
Link to OFA website for Hercules OFA Health Test Results
Photos
Pedigree
Sire

GCH CH Lakeshores Can't Keep A Good Man Down

Sire

Lakeshores Little Buddy

Sire

CH Admirabulls Cinderella Man

Sire

CH Helfyre Warmvalley Six Spence

Dam

Glendars She's a Vallee Girl

Dam

Lakeshores Kirst N. Howl o Blacks

Sire

CH All-Star's Thirst N. Howl

Dam

Black's On Cloud 9

Dam

Lakeshores Silver Lining of CLoud 9

Sire

CH Mr Kinky of Bullhouse

Sire

CH Flippins Scout

Dam

Warmvalley Joy of Bullhouse

Dam

Black's On Cloud 9

Sire

CH Helfyre Warmvalley Six Spence

Dam

Black's Koko Taylor

Dam

Lakeshores Next Top Model

Sire

CH Hetherbull TMAR's Double-R-Nothin

Sire

CH TMARS Double Stuff

Sire

CH Hetherbull Kastlerock Norm

Dam

Po'Boys Dixie Rose

Dam

Hetherbull TMAR's TNT

Sire

CH Cherokee Hi-Tech Hetherbull

Dam

CH Hetherbull Arrogant Stella

Dam

Hilltop's Pixy Dust

Sire

CH Sir Ikenhimer

Sire

Boraguard Truman Snively

Dam

Mil-Dix Josey Jon

Dam

Hilltop's Magical Dreamchaser

Sire

CH Cherokee Legend Dreamchaser

Dam

CH Hilltop's Hula Tululah