Lakeshores Captain of the All-Stars
September 16th, 2005 - January 4th, 2007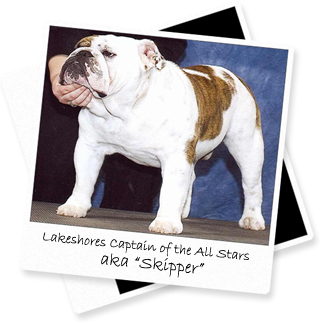 Skipper was out of our first litter with Black's On Cloud 9, Pebbles and CH All-Star's Thist N. Howl, a blessing of a litter, with 5 healthy and beautiful puppies. He was the only boy in the litter, so we knew from the start he was staying. He was his momma's favorite and my "Lil Man." He was a happy go lucky boy, so aloof and silly. He started out his show career winning at least 5-6 Reserve Winners Dog Placements from the Bred-by class before the age of 1 yr.
He was a standard size 55 lb boy, with lovely movement, nice wide jaw and head. He was a pleaser ringside to all spectators who doted on him, and commented on how beautiful he was and how they loved his temperament.
He got sick on our trip home to Michigan for Christmas in 2006. He spent the entire holiday at the vet's in Michigan getting round the clock care. A special thank you to Dr Shafer and the entire staff at Hecht Veterinary Hospital in Bridgman Michigan your love and support means so much. Skipper eventually was referred to Michigan State University for further diagnosis & treatment. They diagnosed him with Aspirated Pneumonia caused by one vomiting episode which ruptured in his lungs and had spread infection thru them. They did emergency surgery to remove 40% of his lungs and did not give him good odds of surviving recovery due to the bulldog breed. Trying to fight off pneumonia and missing 40% of his lungs would mean a rough road ahead...
A video memorial to Skipper...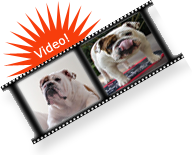 Direct Link - YouTube.com
Skipper lived 1 week post opp, but ultimately it was too much for his lil body to handle. He is now with his mom Pebbles at The Rainbow Bridge and I know both are looking over us and keeping watch. I miss him terribly as he was the best dog, from temperament to conformation, he had it all. He knew how to make me smile and was always there for hugs & kisses. A special thank you to the staff at the Small Animal Clinic at Michigan State University and especially Dr. Brown who cried with me when he had to break the news. Skipper was his silly self till the end, as he chewed up the cardboard box in his cage the morning of the day he died.
Upon his death Skipper had 3 AKC points and had just taken Winners and Best of Winners the weekend prior to getting sick. Skipper will always be a champion in our hearts. We miss you lil man, it just isn't the same here without you. Your sis Kirsten misses you too, but we are moving forward and we know we will see you at The Bridge. ~ Love Mommy
Photos
Click Image to Enlarge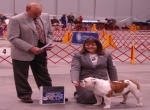 December 16, 2007 ~ Virginia Beach, VA
1st Place Bred-by Exhibitor Dog Class
Winners Dog, Best of Winners & Opposite
Under Respected Judge Dr. Albert Bianchi

Click Image to Enlarge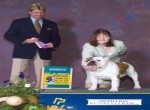 November 12, 2006 ~ Salisbury MD
1st Place Bred-By Exhibtor Dog Class
Winners Dog & Best of Opposite
Under Respected Judge Mr. Randy Garren

Click Image to Enlarge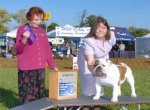 October 1, 2006 ~ Millwood VA
1st Place Bred-by Exhibitor Dog Class
Winners Dog
Under Respected Judge Jean Sheehy

Click Image to Enlarge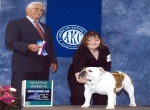 August 11, 2006 ~ Winston Salem, NC
1st Place Bred-By Exhibitor Dog Class
Reserve Winners Dog
Under Respected Judge Mr. Charles Trotter

Click Image to Enlarge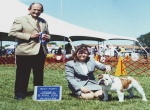 April 29th 2006 ~ Chesapeake, VA
1st Place 6-9 Mo Puppy Dog
Reserve Winners Dog & Best Puppy
Non-Sporting Puppy Group 2

Pedigree
Sire

CH All-Star's Thirst N. Howl

Sire

CH Tiffany's Copper Wood

Sire

CH Briants How About That

Sire

CH Tiffany's Briant's Vincent Jr

Dam

CH Briants Sweet as Sugar

Dam

Tiffany's Tiger Wood

Sire

CH Tiffany's Born to Boogie

Dam

Bow-Siu-Ai Tina Louise

Dam

CH All-Star's Girl Scout Patch

Sire

CH Flippins Scout

Sire

CH Millcoats Geronimo

Dam

Flippins My Bonnie

Dam

CH Arthur's Queen Miss Maybeline

Sire

CH Arthurian's Duke of La-Nan-Dor's

Dam

La-Nan-Dor's Bellisa

Dam

Black's On Cloud 9

Sire

CH Helfyre Warmvalley Sixspence

Sire

CH Little Ponds Chief

Sire

CH Cherokee Legend Garth

Dam

CH Little Ponds Splash

Dam

CH Helfyre Warmvalley April

Sire

CH Warmvalley Buddy Boy

Dam

CH Helfyre's One Hot Number

Dam

Black's Koko Taylor

Sire

CH Black's Mr Vain

Sire

CH Prestwick Gawain

Dam

Black's Annabel Lee by Chubby

Dam

Black's Sweet Distraction

Sire

CH T-Towns Mr Jazz Man

Dam

JB Elegant Elvira