GCH CH Lakeshores Can't Keep a Good Man Down
Born June 15th, 2009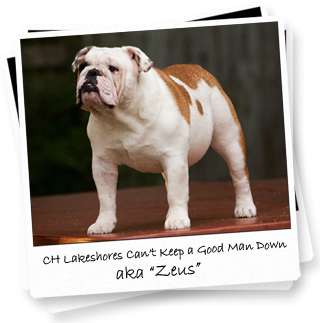 ZEUS is out of my Caution (Lakeshores Silver Lining of Cloud 9) and Gilligan (Lakeshores Little Buddy). He came into this world on June 15th, 2009 along with his 11 brothers and sisters (yes he is from a litter of 12!). He is a very happy lil guy who loves to wiggle his butt. He also thinks his 55 lbs fits perfect in your lap, so watch out. His favorite thing to do is pick up a toy (ropes are his favorite) and carry them around the house wiggling his butt.
Zeus started out his show career with multiple Best of Breed wins over specials from the bred-by class. He finished his championship in style taking Winners Dog and Best of Winners at the Piedmont North Carolina Specialty shows (AM & PM) on November 27, 2010 for back-to-back 5 point specialty majors (Dog entry of 34).
Very special thank you to respected breeder judges Mrs. Marilyn Dundas and Mr. Jim Dundas for recognizing this standard boy with these very special and prestigious awards. We thank all our friends in the breed for the support and encouragement over the past few years. Zeus is my first BRED-BY Champion, with all his Championship wins coming from the Bred-by class, handled by myself. Zeus is now out with Handler Frank Jewett and as of June 2011 is the #6 Bulldog in the US!
He has beautiful movement, perfect ear set, great layback, correct topline and is an overall nice balanced standard sized boy. His temperament is fantastic as well, just a happy-go-lucky boy. He has been a dream come true, I am truly blessed!
Zeus is available to stud to approved bitches. Email lakeshorebulldogs@gmail.com for more information.
Health Testing
CHIC # 70373
OFA Cardiac - Normal - # BU-CA494/17M/P-VPI
OFA Patella - Normal - # BU-PA351/17M/P-VPI
OFA Tracheal - Normal - # BU-TRH61/17M-VPI
OFA Thyroid - Normal - # BU-TH293/66M-VPI
Hyperuricosuria (HUU) - Coming soon
Link to OFA website for Zeus's OFA Health Test Results
Photos
Pedigree
Sire

Lakeshores Little Buddy

Sire

CH Admirabulls Cinderella Man

Sire

CH Helfyre Warmvalley Six Spence

Sire

CH Little Ponds Chief

Dam

CH helfyre Warmvalley April

Dam

Glendars She's a Vallee Girl

Sire

CH Graybulls Charm N Vallee Boy

Dam

CH Glendars She's a Beauty

Dam

Lakeshores Kirst N. Howl o Blacks

Sire

CH All-Star's Thirst N. Howl

Sire

CH Tiffany's Copper Wood

Dam

CH All-Star's Girl Scout Patch

Dam

Black's On Cloud 9

Sire

CH Helfyre Warmvalley Six Spence

Dam

Black's Koko Taylor

Dam

Lakeshores Silver Lining of Cloud 9

Sire

CH Mr Kinky of Bullhouse

Sire

CH Flippins Scout

Sire

CH Millcoats Geronimo

Dam

Flippins My Bonnie

Dam

Warmvalley Joy of Bullhouse

Sire

CH Prestwick Gawain

Dam

CH Warmvalleys Gillie's Sophia

Dam

Black's On Cloud 9

Sire

CH Helfyre Warmvalley Sixspence

Sire

CH Little Ponds Chief

Dam

CH Helfyre Warmvalleys April

Dam

Black's Koko Taylor

Sire

CH Black's Mr Vain

Dam

Black's Sweet Distraction